The brief descriptions below are designed to familiarize you with our doctor's training, professional credentials and work experience.
David S. Chung, D.P.M., F.A.C.P.M.

Aloha and Forest Grove, OR. Podiatrist
Northwest Foot Clinic
Dr. Chung is a specialist in the medical and surgical treatment of the foot. He has extensive training and experience in ambulatory (minimally invasive) foot surgery and foot orthopedics. He takes pride in providing quality, personal care for his patients.
Dr. Chung is board certified by the American Board of Podiatric Medicine. He is a Fellow of the American College of Podiatric Medicine.
Dr. Chung has been practicing podiatry in Washington County, Oregon over 25 years. He stays abreast of the latest advances in foot care. It is his goal to provide the best foot care, using the latest medical and surgical techniques, in a compassionate, friendly environment.
Born in Busan, Korea, Dr. Chung came to the States when he was 15 years old. He graduated from Beaverton High School and attended Portland State University, before going to Chicago for his medical training. He is bilingual in English and Korean.
Active in his community, Dr. Chung had volunteered at several senior centers for many years.
Dr. Chung and his wife, Elise, have been happily married for over 30 years. They have two married children and a grandson. Dr. Chung is active in his church. In his spare time, Dr. Chung enjoys music, travel, hiking and spending time with family.
In practice over 25 years.

Board Certified in Podiatric Medicine.

Specializing in personalized advanced foot care for active families.

Staff, OHSU Health Hillsboro Medical Center (

formerly Tuality Community Hospital)

Staff, Surgery Center of Tanasbourne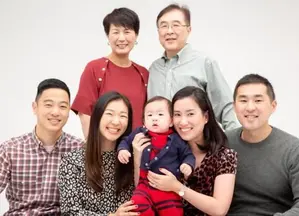 ---
Our Staff
Kylie, Front Office
Kylie is our newest addition, working in the front office. She is friendly, caring, and willing to help our patients in any way possible. She likes to travel, to hang out with friends and playing with her cat Ollie. And she's an avid Blazer fan.
Elizabeth, Billing Specialist

Elizabeth joined our clinic in 2017. She specializes in all aspect of billing. She is a friendly, hard working person who is always willing to help. She is also bi-lingual (English & Spanish). She enjoys spending time with her family.
Jeannette, Certified Medical Assistant
Jeannette is our certified medical assistant, serving our patients since 2016. She is licensed in limited x-rays. Patients appreciate her infectious laugh and caring ways. In her time away from work, she enjoys spending time with friends & family. She also enjoys camping, hunting, clamming and crabbing.